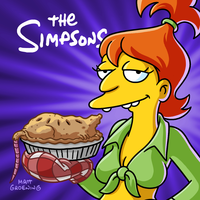 Writers, a new guest star, and new information for future episodes, most of which will air during the 31st broadcast season (2019/20 TV season) have been released!
Stay tuned for more new information and titles!
Don't forget to visit our page on Season 31, as we always try to keep it up-to-date!
Bobby, It's Cold Outside
Jeff Westbrook and John Frink

— Al Jean (@AlJean) February 22, 2019
Livin' La Pura Vida
— Al Jean (@AlJean) March 23, 2019
Hail to the Teeth
Elisabeth Kiernan Averick (first Simpsons script)

— Al Jean (@AlJean) April 19, 2019
The Miseducation of Lisa Simpson
j Stewart Burns

— Al Jean (@AlJean) May 2, 2019
Bart the Bad Guy
Dan Vebber

— Al Jean (@AlJean) June 14, 2019
Screenless
OH ALSO, the celebrity guest on this episode was Werner Herzog. pic.twitter.com/uuXxuYF8SL

— Dan Ryckert (@DanRyckert) June 13, 2019
Better Off Ned
story @AlJean Teleplay Cohen & Westbrook

— Al Jean (@AlJean) July 11, 2019
Upcoming Episodes
not till fall

— Al Jean (@AlJean) March 18, 2019
Directing the very serious-minded Jason Momoa via Skype for ⁦@TheSimpsons⁩ this morning. Spoiler: he was GREAT. pic.twitter.com/urKdz2UeVp

— Tim Long (@mrtimlong) March 18, 2019