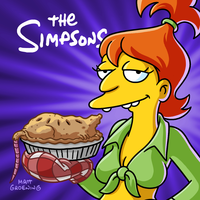 More information about the plot and the titles of the segments for upcoming 666th episode, the 4th episode of Season 31, and 30th annual Treehouse of Horror, titled "Treehouse of Horror XXX", have been revealed.
Opening sequence…
"Baby Maggie is possessed by the devil, and Ned Flanders is going to perform an exorcism, and he points out to Homer and Marge that on her scalp concealed by her hair is the mark of the devil, Mickey Mouse, and a second later by the mark 666."
Heaven Swipes Right…
"Homer is killed by accident before his designated death date, and is sent back to Earth occupying the bodies of different Springfielders."
When Hairy Met Slimy…
"Selma Bouvier falls in love with a creature in a laboratory, Kang."
Danger Things…
"Danger Things: The Simpson family are living in the 1980's decipted in Stranger Things and in this segment, Milhouse is Will."
For further information…
If you want to read the original article from TVBlog, visit this page.
If you want to know further info about the episode, check our Wiki article on it. We are always keeping it up-to-date.
If you want to know more about Season 31, visit our page for it in our Wiki!
Stay tuned for more!