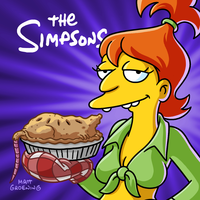 Air Date and Guest Star for the upcoming 11th episode of Season 31, titled "Hail to the Teeth", and the Director for the upcoming episode "Frinkcoin" have been revealed by FOX.
If you want to know more about Season 31, visit our page for it in our Wiki!
Stay tuned for more!
1/5

— Al Jean (@AlJean) November 27, 2019
teeth

— Al Jean (@AlJean) November 27, 2019
no but guest stars @realjonlovitz

— Al Jean (@AlJean) December 1, 2019
I believe Steve Moore

— Al Jean (@AlJean) December 2, 2019