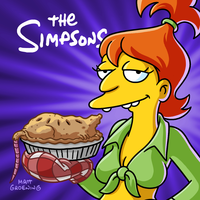 Information about the plot for the episode "Frinkcoin", which will air on February 23, 2020; has been released by FOX. The episode will be the 13th episode of Season 31.
In the episode …
"Homer and Marge compete to be the topic of Lisa's "Most Interesting Person I Know" essay. Lisa instead chooses Professor Frink. While Lisa works on the essay, Frink develops a cryptocurrency, overtaking Mr. Burns' title of richest man in Springfield. With new fame, Frink struggles to know who his real friends are, while Mr. Burns schemes to take his title back."
For further information…
If you want to read the original listing from FOX, visit this page.
If you want to know further info about the episode, check our Wiki article on it. We are always keeping it up-to-date.
If you want to know more about Season 31, visit our page for it in our Wiki!
Stay tuned for more!