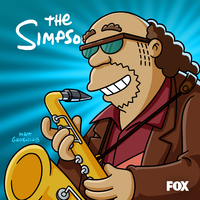 The list of episodes continues to fill up, as the title of the thirteenth episode of the 32nd production season (QABF13) has been revealed. It is titled "The Man from G.R.A.M.P.A."!
The episode will probably air during the 32nd broadcast season (2020/21 TV season).
A new crossover is also coming in the future!
Stay tuned for more new episode titles! Don't forget to visit our page on Season 32, as we always try to keep it up-to-date!
The Man from G.R.A.M.P.A. Excellent script Written by @CarolynOmine

— Al Jean (@AlJean) August 7, 2020
.@TheSimpsons Vcool new ep tonight writer the Great @CarolynOmine director Magic Mike Polcino with THE @stephenfry pic.twitter.com/fYWH7VxRIK

— Al Jean (@AlJean) May 16, 2021