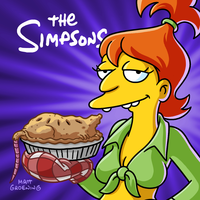 Information about the plot for the episode "Highway to Well", which will air on March 22, 2019; has been released by FOX. The episode will be the 17th episode of Season 31.
In the episode …
"When Maggie goes to pre-school, Marge decides to get a job to pass the time and ends up working at an upscale weed dispensary. Then, Homer decides to open his own dispensary that mimics a sketchy drug deal, putting their two businesses at odds."
Guest stars
Guest stars for the episode include: Kevin Smith as himself, Billy Porter as Desmond and Chelsea Peretti as Lauren.
For further information…
If you want to read the original listing from FOX, visit this page.
If you want to know further info about the episode, check our Wiki article on it. We are always keeping it up-to-date.
If you want to know more about Season 31, visit our page for it in our Wiki!
Stay tuned for more!