New information and guest stars of Season 29 have been revealed in interviews with Entertainment Weekly.
Season 29
Al Jean stated, regarding surpassing Gunsmoke's record on Tv's longest-running scripted primetime series, "It's a tribute to everybody that's worked on the show, and how hard they've worked. It used to be an unthinkable number and here we are!… I don't even know if [the Gunsmoke producers and actors] were aware that they were establishing a record when they went off the air, or I don't remember anybody saying, 'Take that!' but we're beating it."
The Serfsons
In the season premiere, the family will be trasported to a fantasy-themed world, paying tribute to movies, shows and books of that genre.
In an interview with EntertainmentWeekly, Matt Selman said: "It's a sprawling epic fanatsy episode that's worthy of a 9-hour movie trilogy — 10-and-a-half hours after you count the extended edition. Setting an episode in a fantasy world allowed us to tell a deeper, more emotional story that had huge surges of emotion and feeling but also is really silly. It has a lot of satire and asks interesting philosophical questions — and makes fun, pointed political commentary."
In the episode, Nikolaj Coster-Waldau, Game of Thrones star, will make an appearance. Selman continues: "The part is more Needle than Longclaw, but no less deadly." About the role he adds: "He has a very Jaime Lannister-type relationship with one of the Simpsons. It is an acceptable level of disgusting."
Regarding the plot, Selman states: "Homer Serfson has to lead a rebellion against what he loves most: feudalism itself. If you thought one Milhouse was annoying, imagine dozens of goblin Milhouses. Krusty has a uniquely magical venereal disease. And Moe's bar is, if anything, a little nicer."
Springfield Splendor
The story is inspired of Alison Bechdel's Fun Home: A Family Tragicomic, where Lisa and Marge creates a graphic novel of Lisa's life (Lisa says the words, while Marge draws them.)
Tim Long, the co-writer of the episode, says: "It becomes an unexpected hit and it takes Bi-Mon-Sci-Fi-Con, which is our version of Comic-Con, by storm. Everything is going great, but an eccentric theater director played by Martin Short turns it into a musical extravaganza, à la Fun Home, and ends up sewing chaos and driving a wedge between mother and daughter. Maybe, just maybe, those bonds can be repaired by the end of the episode, but tune in to make sure."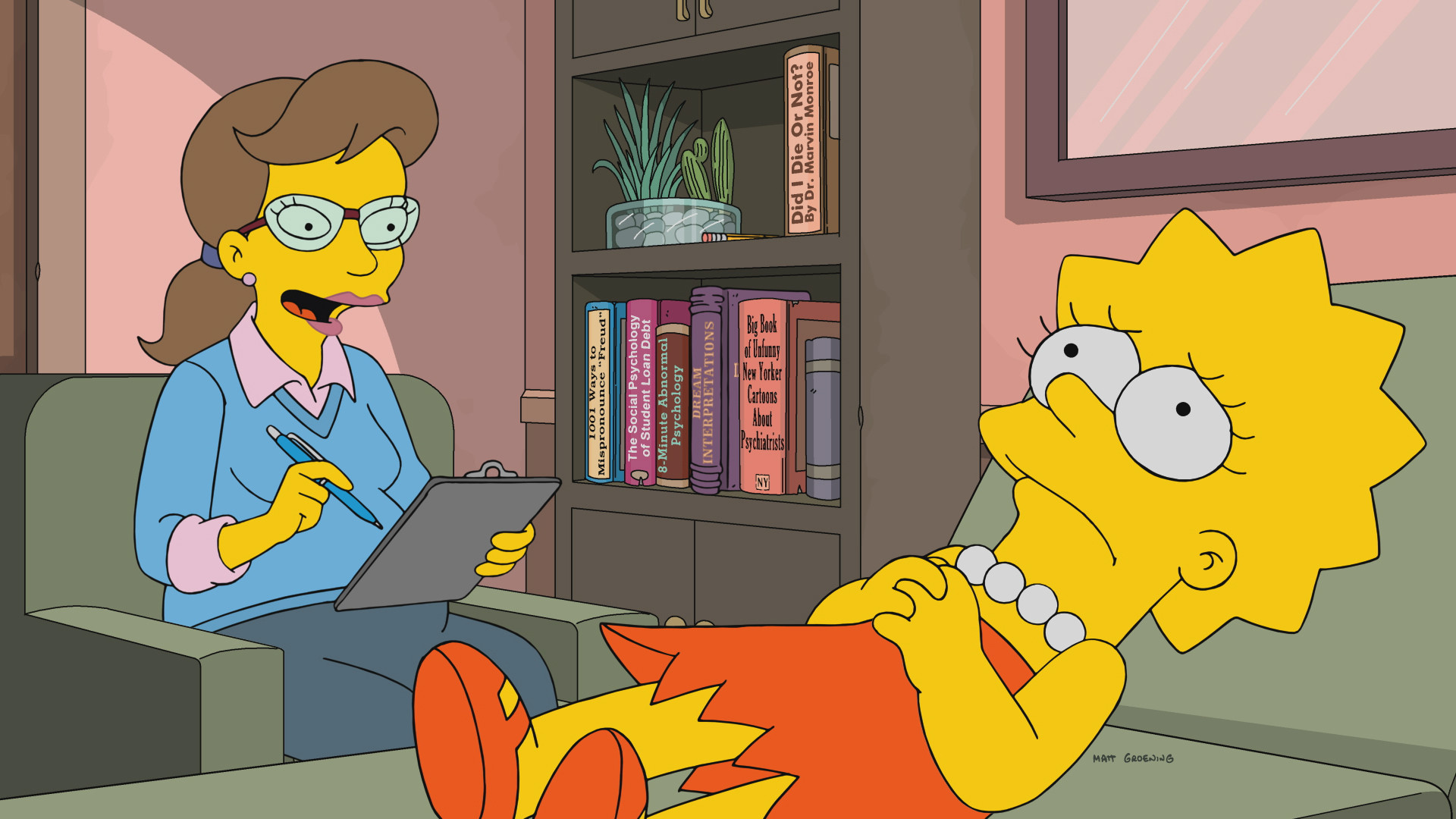 In the episode Rachel Bloom guest stars as an intelligent, highly neurotic student psycohologist. Long adds: "The Simpsons send Lisa to her to deal with her neuroses because they're both loving parents and incredibly cheap. It's her idea to get Lisa expressing her feelings through art therapy, which sets the whole graphic novel part in progress."
There will also be a subplot with Boom: "There's a funny, very small subplot where it turns out that Rachel's character has a complicated relationship with her academic supervisor, so if you love comedy about academic supervision, you're going to love this episode."
Treehouse of Horror XXVIII
There will be laughters more than fright screams, but the last segment, according to Al Jean, will change that: "We have what I think is the scariest segment we ever did. I don't want to say more. I'll give you the title: 'Mmmmmmm, Homer.' We actually put a disclaimer on it again like we used to — a warning to the audience."
The second segment's title is also revealed to be a 3D parody of Niel Gaiman's Caroline, titled "Coralisa". Al Jean says: "Lisa finds a perfect world, except that they make you sew buttons on your eyes."
Regarding the first segment, The Exor-Sis, Al Jean says: "Maggie says, 'You're all going to die,' and Marge is excited, because it's Maggie first words."
Regarding the candy bars opening, Al Jean says "Bart is Barterfinger, so nobody takes him."
Fears of a Clown
Jon Lovitz returns as Llewellyn Sinclair in another episode. Al Jean says "Bart pulls a prank using clown masks, and that makes everybody horrified of clowns, so Krusty loses his job and tries to come back as a dramatic actor and Llewellyn Sinclair is his director. They don't get the rights to Death of a Salesman, so the play is called The Salesman's Bad Day."
Haw-Haw Land
In the episode will feature a love triangle. Long states: "It fulfills many of my longheld Simpsons dreams, which include hearing Nelson sing. Nelson is a deceptively soulful character. About 12 years ago, he was lamenting the fact that his father wasn't around and he sang, 'Papa, Can You Hear Me?' from Yentl, and I remember thinking, 'This is a crazy thing,' and also thinking, 'I'm incredibly moved.' There's a lot of pain inside that sleeveless vest that we tried to draw upon." Ed Sheeran will play as the musician Brendan whom Lisa falls for, and Brendan will sing. Al Jean adds "He's a great musician and he's a little condescending to Lisa, but also thinks she could be great. So it's a choice that she makes between Nelson and him. At one point he goes, 'Why is this even a choice?'"
Lisa Gets the Blues
In the episode, the family will go to New Orleans during the Jazz Fest. The start of the episode sees Lisa's music teacher telling her she's just a big fish in a small pond, and that's she's not a good musician. Al Jean says: "She gets the yips and she can't play, so she's really heartbroken." She'll also have a nice moment with Louis Armstrong's statue.
Frink Gets Testy
In the episode, Burns will be the center of it. Al Jean states: "There's an episode where Burns sees an old Orson Welles show where he talks about Nostradamus, and Burns believes that the end of the world is near. He wants a test to determine who should go on a spaceship with him, and Fring comes up with a new way of testing everybody in town."
Mr. Lisa's Opus

The plot of Mr. Lisa's Opus has been also revealed, Lisa's version of Barthood. Al Jean states: "You see her as a little precocious kid where Homer first discovers how smart she is, and you see her in college wondering if she's going to fit in, and finally getting out of Springfield and being really scared. You also see Flanders try to cure Homer of his alcohol problem."
Valerie Harper will play as Lisa's teacher, and Norman Lear will appear as a cameo.
More episodes
In another episode, Daniel Radcliffe returns to play as himself, and Bart will use Sun Tzu (voiced by Silicon Valley star Jimmy O. Yang)'s The Art of War to destroy Homer. Al Jean says "They go to a Minecraft-like convention and Daniel is there wearing a costume. That's how people like him go to conventions without being seen, and Homer unmasks him, and he gets torn to shreds."
In one episode, Marge and Homer have memories of the fun before forming a family, with Marge working on a newspaper, J.K. Simmons playing her editor, with Al Jean stating he's "Gruff and loud".
In another episode, there'll be an art heist, in the style of a '70s detective show, with Bill Hader guest starring as the detective investigating the case and all the eyes are on Homer. Selman says "He falls in love with a painting and when it goes missing, he's the main suspect." Cecily Strong will guest star as one of the other suspect.
The last teased episode will feature Moe's family backstory. Selman concludes: "It's a Shakespearean family drama, set against the backdrop of a fading mattress store empire."
Source: EntertainmentWeekly
The episodes will air during the 29th broadcast season (2017/18 TV season).
Stay tuned for more information!
Don't forget to visit our page on Season 29, as we always try to keep it up-to-date!