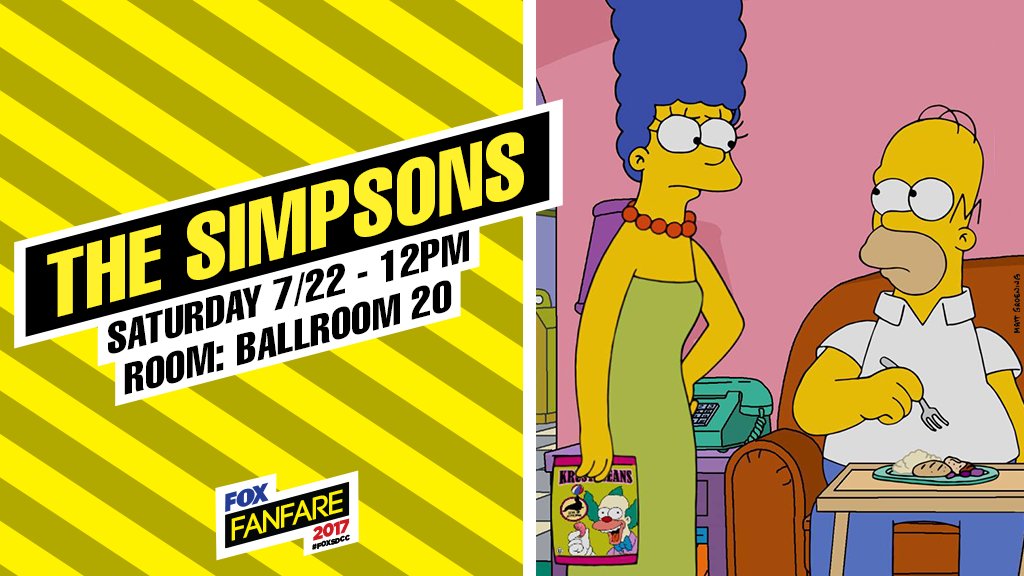 The Simpsons has just finished their panel at the San Diego Comic-Con 2017 and here are the highlights, courtesy of The Hollywood Reporter.
The panel started with Matt Groening, turning the discussion to President Donald Trump, showing the "Donald Trump's First 100 Days In Office" video.
He continues talking about how 21st Century Fox asking to taking it easy on Fox News after a joke that dubbed them "not racist, but No. 1 with racists."
Matt adds "Then Bill O'Reilly called us pinheads and look what happened," just before asking the crowd to chant a new take on the "Lock her up" chant used in reference to Hillary Clinton by the conservaties.
Matt Selman continues commenting on their take on Trump's actions: "Our show holds up a Springfield mirror to society so that never fails to inspire us."
Al Jean afterwards reveals they'll do a Bob's Burgers couch gag in Season 29, saying "Now you have no reason to turn your TV off between them and us anymore."
Additionally, Groening revealed that artist Bill Plympton will be doing a second couch gag for the series.
They next revealed guest stars for the season, including Shaquille O'Neal, Martin Short, Kelsey Grammer as Sideshow Bob and Nikolaj Coster-Waldau, whose character Al Jean teased "has a very inappropriate relationship with one of the Simpsons."
David Silverman is working on an episode where the family travels to New Orleans for JazzFest, and Al Jean talked about an episode set in Lisa's future "You see where she might wind up and she might end up with a woman," and an episode where they'll re-imagine Stephen King's It but with Krusty.
The team was asked about Bartman and Matt Groening joked "We didn't realize superheroes were so popular," before saying "One day he'll come back."
Bart Simpson also appeared live, doing a Q&A with the crowd, answering his favorite curse word ("boosum") and the City of San Diego's recent less ("Screw the Chargers, am I right?"), just before Nancy Cartwright appeared and joined the crew.
Al Jean revealed the show will be back on DVD, starting with Season 18 on December 5th, including commentaries, extras and deleted scenes, revealing Season 18's dvd cover, with a shot of Fat Tony, and just after the voice actor, Joe Mantegna, joined the panel.
NO NEED TO GET STABBY – "THE SIMPSONS" IS BACK ON DVD! #TheSimpsons #SDCC2017 pic.twitter.com/J6qgwO1lz6

— The Simpsons (@TheSimpsons) July 22, 2017
Matt Groening gave away some gifts for the fans that asked questions, just before showing a preview of the Treehouse of Horror XXVIII segment "The Exor-Sis", which closed the panel.