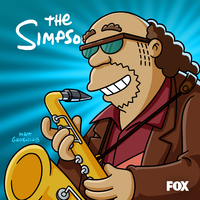 Information about the plot for the episode "Three Dreams Denied", which will air on November 22, 2020; has been released by FOX. The episode will be the 7th episode of Season 32.
In the episode …
"Bart becomes a voiceover actor and Comic Book Guy is humiliated at Comic-Con. Meanwhile, Lisa is set up for a fall."
Guest stars
Guest stars for the episode include: Ben Platt as Blake and Paul Rudd as himself.
For further information…
If you want to read the original listing from FOX, visit this page.
If you want to know further info about the episode, check our Wiki article on it. We are always keeping it up-to-date.
Bill Plympton couch gag
On another note, in the future there'll be a Bill Plympton couch gag
When I visited Bill Plympton's studio today he showed me his newest Simpsons couch gag, which should air later this season. No spoilers, but if you enjoyed his "Homer's Face" couch gag, you will enjoy this one as well!

— That Guy (@ThatGuy3002) October 27, 2020
If you want to know more about Season 32, visit our page for it in our Wiki!
Stay tuned for more!