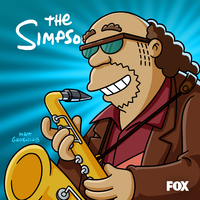 More information on upcoming Season 32 episodes have been released on D23 Inside Disney Episode 58.
Stephen Fry guest stars as a spy that thinks Grampa is part of a spy ring.
Yeardley Smith guest stars as herself, co-host of the true-crime podcast Small Town Dicks.
Panic in the Streets of Springfield
It'll be a musical episode, with music written by Bret McKenzie.
Benedict Cumberbatch guest stars as an aging Morrissey-type character.
Other upcoming episodes
The 700th episode will air on March 2021.
J. J. Abrams will guest star as himself.
More information:
The episode will probably air during the 32nd broadcast season (2020/21 TV season).
If you want to know more about Season 32, visit our page for it in our Wiki!
Stay tuned for more!