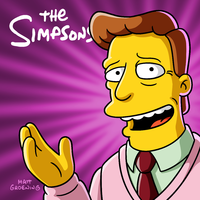 Information about the plot for the episode "I'm Just a Girl Who Can't Say D'oh", which will air on April 7, 2019; has been released by FOX. The episode will be the 20th episode of Season 30. The episode originally scheduled to air on April 7 was "The Incredible Lightness of Being a Baby", but it has been changed due to unknown reasons, so this episode will air that night instead.
In the episode …
"Marge becomes Director of Springfield's local theater, armed with Lisa's script resembling "Hamilton." Meanwhile, Homer joins a baby class with Maggie, where he takes a liking to supervisor Chloe."
Guest stars
Guest stars for the episode include: John Lovitz, and John Lithgow as himself.
For further information…
If you want to read the original listing from FOX, visit this page.
If you want to know further info about the episode, check our Wiki article on it. We are always keeping it up-to-date.
If you want to know more about Season 30, visit our page for it in our Wiki!
Stay tuned for more!