It's a holiday miracle: the holidays are finally over!
But with the Simpson family now complete, what will be their next adventure in Springfield?
Will romance blossom?
Will Homer finally "take-off" on his own?
Will anyone answer these questions? Anyone? Please?
Stay tuned and find out!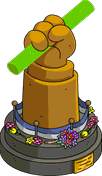 EA just released this teasers for the next update on their Facebook Page and the App Store: it's Deep Space! EA is referring Inanimate carbon rod from the episode Deep Space Homer!
In the Treehouse of Horror 2015 and Thanksgiving 2015 events some stuff for the event were added to the game but unreleased and now it'll all come to our towns soon!
Check out all the info as they come in our Deep Space Homer content update page!
Also added as another unreleased content in the Winter 2015 Takedown update was the Daily Challenges System. It's not complete yet and it may take some time to be released but it's probably coming soon! Free donuts with permanent Daily Challenges! Stay tuned for all the infos!