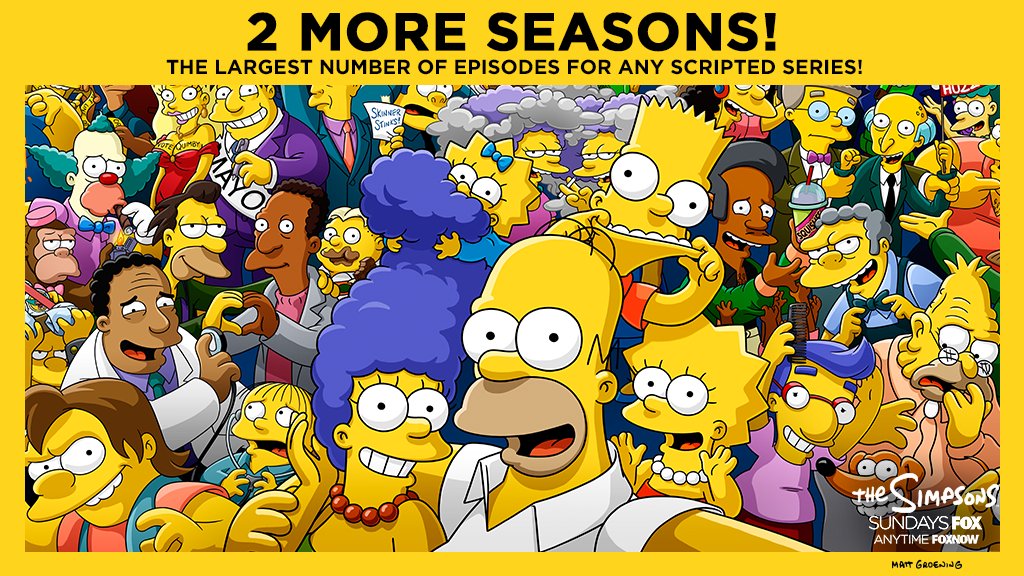 The show has been renewed by Fox for Season 29 and 30! It will bring the show up to 669 episodes, the highest for any primetime scripted TV show, breaking Gunsmoke's 635.
"Take that 'Gunsmoke!'  You lost a race you didn't even know you were running!," said Homer.
.@TheSimpsons November surprise!
Thanks to all of you for making this possible https://t.co/IyPEtPYcgS

— Al Jean (@AlJean) November 4, 2016
Dana Walden and Gary Newman, Chairmen and CEOs of Fox says: "This is yet another record-setting moment for what is truly a landmark series. The Simpsons has meant so much to the network, the studio and everyone at Fox, and its continued cultural impact around the globe is a testament to the combined brilliance of Matt, Jim and Al. Congratulations to everyone who works on this groundbreaking series – from the voice cast and producers to the writers and production team – you comprise one of the greatest collections of creative talent in the history of the medium. And to the millions of SIMPSONS fans around the world, thank you for watching all these years. We're happy to tell you there's lots more to come."
The show is averaging 7.2 million viewers across all platforms. The 600th episode registered its largest rating (3.6/11 Live + 7) and seven-day multi-platform audience (9.9 million viewers) since January, plus 1.3 million viewers on Hulu and FOXNOW, the highest in more than three years.
In an interview with CNN, Al Jean, executive producer and showrunner, says: "To be honest, just from the beginning, we've always been trying to do the best episode possible 669 times in a row.
Al also answers how long the show will go on stating "I think our new motto is 'on to sixty".