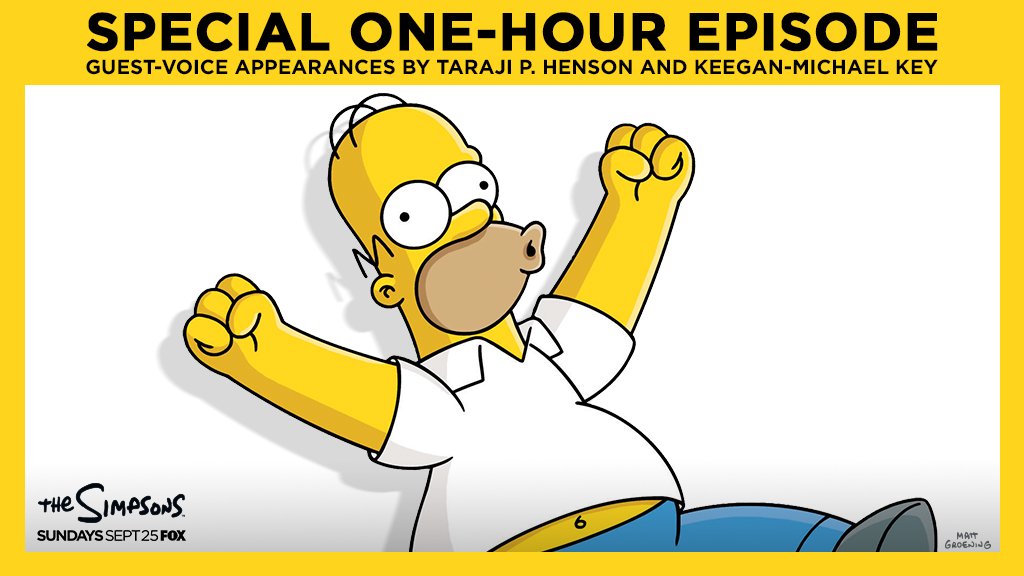 Two behind the scenes interviews with Matt Selman for the upcoming 1 hour special episode of season 28, split in two parts, titled "The Great Phatsby: Part One" and "The Great Phatsby: Part Two", have been released. The episodes airs on January 15, 2017.
In an interview with Philly.com, Matt Selman said: "Jim Beanz produced more original music than any guest composer or producer I've ever worked with at The Simpsons.  We felt guilty about how much we asked him to do. Because of Jim's amazing work, 'The Great Phatsby' has a feel unlike that of any other Simpsons episode in the history of the show.  His creativity permeates the episode.  He was so fun to collaborate with, and no matter what we threw at him, he gave us back something amazing. I would have to say that Jim Beanz made the hour-long Simpsons hip hop special… super special."
In the article they also added a special preview: Jim Beanz's version of the theme song!
Eurweb also interviewed Matt about the hour long episode:
Matt started with "We haven't done a huge number of hip hop episodes so we really wanted to go all out with this one. We have so many fans in the hip hop community and we went out to our three favorite guys and they all said yes. We couldn't believe it. It's like this Mount Rushmore of rap. We took three different rappers with three different styles and three different personalities in how they make their art. We couldn't believe how much love there was out there. There's a huge amount of love for The Simpsons in the world of hip hop, and obviously we have a lot of love for hip hop. We wanted to go bananas and we did."
Eurweb asked about Mr. Burns and his role in the episode, integrating with the rap world. Matt answered: "There was a great epic friendship between Mr. Burns, an old-school evil billionaire, and a rap impresario in the mold of Jay Z or P. Diddy or Dr. Dre, or one of these modern rap billionaires, and they both kinda embrace that old-timey Rockefeller Hampton's — certain glamor and style. That connects Mr. Burns to the modern rap image. There's a line in the show: 'Is not green a more powerful color than black or white? Burns sees a modern rap mogul and the style which he lives life and thinks, 'This is what I used to have, and this is what I want.'
Being asked about the controversial world of rap and hip-pop and it's influence in the episode, Matt answered: "We don't super push it. The Simpsons used to be an outrageous show that people thought was really envelope pushing, but the world has gotten more outrageous since then. We just want to tell stories that touch people, and are funny and silly. I don't think we're super outrageous. It's a pretty clean-cut episode…a couple pot jokes. Like when Snoop is recording in his booth there's a lot of mysterious smoke in the booth and Homer pops his head in and takes a deep sniff."
Regarding the voice actors for the episode, asking for the key qualities for the right voice to choose, Matt answered: "We just wanted people who had huge, hilarious energy. Taraji P. Henson — so funny. She came in and she knew we're obviously making fun of Cookie. We're doing a wackier version of Cookie and she loved it. She was ad-libbing, tons of her jokes are in the script. Cookie is such this outrageous character and then she just turned it up another notch and become even more wild. She had so much fun with it. To watch her send up Cookie like that, it was one of my favorite experiences in the 1000 years I've worked on the show."
Next, eurweb asked about how the staff keep the show fresh after 20 years and how they think ahead of one or two seasons on how to test the waters on the audience, to which Matt answered: "I wish we had that kind of energy. To do 22 a year… I feel like we're just like, 'What's funny? Let's do it!' Whatever we think of… we've done so many things —to think of anything at all good we just do it right away and then a year later see how it all fits together. I wish there was a grand scheme. Instead, it's just like we gotta keep going. We gotta keep the train running. This hip hop show — to do an hour long show is epic for us. We've never done that. We did 'Who Shot Mr. Burns?' like, 25 years ago, but that was a two-parter over a season finale cliffhanger. This is like a mini-movie."
Charles Barkley is joining the roster tomorrow night at 8/7c! #TheSimpsons pic.twitter.com/3vfitSpBTc

— The Simpsons (@TheSimpsons) January 14, 2017
The next episode, airing this Sunday, is a big challenge, and eurweb asked if it was the biggest one as a producer for Matt: "It was certainly a new challenge, and a new challenge is always exciting. It's definitely more than twice the amount of work. People are used to a story being over in like 20 minutes with commercials. And now to keep their attention for an hour, with commercials — 45 minutes without, it's hard — and yet, it's a different dramatic situation. There is a B-story in the first half hour and a B-story in the second half hour, and there are little stories along the way that begin and end that you don't have to follow for the whole hour. So hopefully that'll keep people's attention."
Talking about the diversity on the show, and how much of it to attribute to the success of it, Matt answered: "We just want this to be a show that everyone can watch with their family. I know we have a lot of fans in the African-American community and a lot of fans in the Latino community. I know there's just something about the look of the show and the feel of it, and our take of the world, that I feel is really inclusive. We really try to make that happen. Obviously we take shots at everyone. We make fun of everybody (because) at the end of the day, everyone's part of the same mess that is America. We're all in this giant mess together."
Next eurweb asked about the show ending, to which Matt confirmed that the show will go on till Season 30 but it's unknown how much after: "Nothing has been decided yet. I would say we're pretty much locked up til the end of season 30. Those episodes would start airing maybe early 2019, I think. But after that anything can happen."
Asking how he'd like for it to end, Matt answered: "It won't be my choice what the last episode is going to be, but my personal choice is that it would just be a little small regular episode and not try to wrap anything up or change anything…or someone dies. The whole point of the show is every week beginning with this regular blue-collar family and they love each other but they're troubled, and life isn't so easy. You don't always get along, then crazy stuff happens to them every week and then the next week it all kinda goes back to the beginning — like Groundhog Day. But I just wanna go out the way we started, with a small emotional story that touches you about a regular dysfunctional family like we all have. Obviously we'll do some little jokes about it being the end. When it happens, I don't wanna say 'Grandpa died!,' or the dog dies, or Homer gets a promotion or any of that. That's just my personal opinion, but it might not be my call."
The final questions are regarding their prediction on Trump's victory at the elections: "It breaks my heart on one level. On another, makes me sad. Then on a third level, it's very tragic. I don't know… I can't believe it! My brain is going to explode. We did a parody video of the Trump election when he first announced, and then people online took that and implied that we did that before cause we matched it exactly. But then lots of people, in this age of Internet confusion, now think that were literally stage-managed how he would arrive on the escalator, and that didn't happen. We just imitated it and people go online and said it happened in the opposite order. All we did was make one little throw away joke about it. So that speaks to the bizarre post-truth era that we seem to be now living in. So I guess whatever is going to happen in the world, The Simpsons is along for the ride."
And how Trump will provide material for the show's entertainment: "No, it's all going to be super sad. If you can find laughter in absurd tragedy, yes — that will certainly be the case. But it's impossible for me to see anything funny about the future. Other than from the most darkest sense of humanity — the darkest sense of humor, perhaps. It certainly won't be boring. Fingers crossed, right? We gotta be good to each other."
Stay tuned for more
Sources: Philly.com, Eurweb