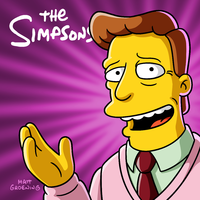 Information about the plot for the episode "The Clown Stays in the Picture", which will air on February 17, 2019; has been released by FOX. The episode will be the 14th episode of Season 30.
In the episode …
"Krusty reveals the untold story of his past in his movie "The Sands of Space." While working as personal assistants on the movie, Bart and Lisa learn about the early years of their parents' relationship."
Guest stars
Guest stars for the episode include: Marc Maron as himself.
For further information…
If you want to read the original listing from FOX, visit this page.
If you want to know further info about the episode, check our Wiki article on it. We are always keeping it up-to-date.
If you want to know more about Season 30, visit our page for it in our Wiki!
Stay tuned for more!