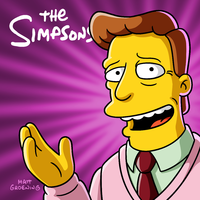 Information about the plot for the episode "Woo-Hoo Dunnit", which will air on May 5, 2019; has been released by FOX. The episode will be the 22nd episode of Season 30.
In the episode …
"When the secret stack of cash – aka Lisa's college fund – Marge keeps under the sink goes missing, the documentary crime series "Deadline Springfield" goes in-depth to solve the case, leaving no stone unturned."
Guest stars
Guest stars for the episode include: Will Forte as King Toot and Ken Burns as Himself.
For further information…
If you want to read the original listing from FOX, visit this page.
If you want to know further info about the episode, check our Wiki article on it. We are always keeping it up-to-date.
If you want to know more about Season 30, visit our page for it in our Wiki!
Stay tuned for more!