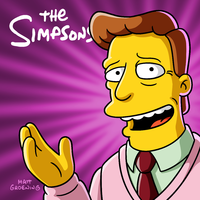 Information about the plot for the episode "Crystal Blue-Haired Persuasion", which will air on May 12, 2019; has been released by FOX. The episode will be the 23rd and season finale episode of Season 30.
In the episode …
"After Homer's work cuts children's healthcare benefits, Marge turns to buying healing crystals as a cheaper solution for Bart's ADD. Bart begins to succeed in school, prompting Marge to open her very own crystals empire and sell to the naive mothers at school."
Guest stars
Guest stars for the episode include: Illeana Douglas as New Age Clerk, Werner Herzog as Walter Hotenhoffer and Jenny Slate as Piper Paisley.
For further information…
If you want to read the original listing from FOX, visit this page.
If you want to know further info about the episode, check our Wiki article on it. We are always keeping it up-to-date.
If you want to know more about Season 30, visit our page for it in our Wiki!
Stay tuned for more!