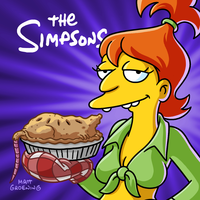 Information about the plot for the episode "Go Big or Go Homer", which will air on October 6, 2019; has been released by FOX. The episode will be the 2nd episode of Season 31.
In the episode …
"Homer is demoted to supervising interns, among whom is go-getter millennial Mike, a 35-year-old who asks Homer to be his mentor. However, when Homer inspires Mike to start a business of his own, the two find themselves being chased by the mob."
Guest stars
Guest stars for the episode include: Michael Rapaport as Mike Wegman.
For further information…
If you want to read the original listing from FOX, visit this page.
If you want to know further info about the episode, check our Wiki article on it. We are always keeping it up-to-date.
If you want to know more about Season 31, visit our page for it in our Wiki!
Stay tuned for more!