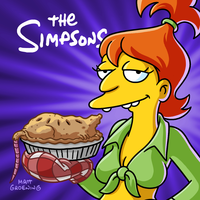 Information about the plot for the episode "Livin' La Pura Vida", which will air on November 17, 2019; has been released by FOX. The episode will be the 7th episode of Season 31.
In the episode …
"The Simpsons join other Springfield families on the Van Houten's annual trip to Costa Rica, which they obviously can't afford. While there, Homer befriends Patty's new girlfriend, Evelyn, and Lisa tracks down the real reason the Van Houtens can go on this trip every year."
Guest stars
Guest stars for the episode include: Fortune Feimster as Evelyn.
For further information…
If you want to read the original listing from FOX, visit this page.
If you want to know further info about the episode, check our Wiki article on it. We are always keeping it up-to-date.
If you want to know more about Season 31, visit our page for it in our Wiki!
Stay tuned for more!