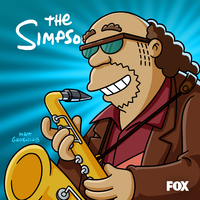 The list of episodes continues to fill up, as the title of the twentieth episode of the 31st production season (ZABF20) has been revealed. It is titled "The Road to Cincinnati"!
The episode will probably air during the 32nd broadcast season (2020/21 TV season).
Stay tuned for more new episode titles! Don't forget to visit our page on Season 32, as we always try to keep it up-to-date!
surprise! Got to tag along with Bob and Henry from @TalkSimpsonsPod to a Simpsons table read! Got my script signed by Hank Azaria, Yeardley Smith, Kevin Michael Richardson, and Matt Selman. Got a pic with Yeardley too.
We sat right behind Matt Groening and the core cast ???? pic.twitter.com/FDOk2tWw5X

— nina matsumoto (@spacecoyotl) November 7, 2019
Jeff Westbrook

— Al Jean (@AlJean) November 19, 2019
road to Cincinnati zabf20

— Al Jean (@AlJean) April 24, 2020