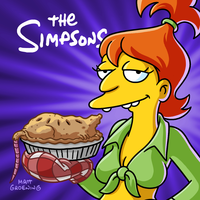 Information about the plot for the episode "Todd, Todd, Why Hast Thou Forsaken Me?", which will air on December 1, 2019; has been released by FOX. The episode will be the 9th episode of Season 31.
In the episode …
"In this Flanders family-focused episode, Todd blames God for the death of his mother and rejects his faith – causing great distress for Ned, who sends him to live with the Simpsons in an attempt to scare him back into God's arms."
.@TheSimpsons v sweet read by @timleong and @mirandat360 pic.twitter.com/YPjENEOPQ5

— Al Jean (@AlJean) April 4, 2019
For further information…
If you want to read the original listing from FOX, visit this page.
If you want to know further info about the episode, check our Wiki article on it. We are always keeping it up-to-date.
If you want to know more about Season 31, visit our page for it in our Wiki!
Stay tuned for more!