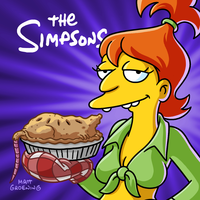 Information about the plot for the episode "The Miseducation of Lisa Simpson", which will air on February 16, 2019; has been released by FOX. The episode will be the 12th episode of Season 31.
In the episode …
"The sea captain finds a treasure he's been searching for all his life, but it's taken from him by the townspeople. Marge convinces the people of Springfield to build a S.T.E.M. school with the money."
Guest stars
Guest stars for the episode include: John Legend as himself, Chrissy Teigen as herself and Zach Woods as Zane.
For further information…
If you want to read the original listing from FOX, visit this page.
If you want to know further info about the episode, check our Wiki article on it. We are always keeping it up-to-date.
If you want to know more about Season 31, visit our page for it in our Wiki!
Stay tuned for more!