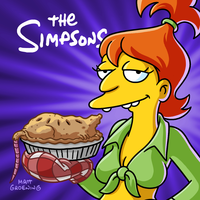 Information about the plot for the episode "Screenless", which will air on March 8, 2019; has been released by FOX. The episode will be the 15th episode of Season 31.
In the episode …
"Marge implements a screen time limit for the whole family, all of whom all easily adjust to the new lifestyle. However, Marge realizes that she is the one addicted – not her husband and children."
Guest stars
Guest stars for the episode include: Werner Herzog as Dr. Lund; Dr. Drew Pinsky as Himself.
For further information…
If you want to read the original listing from FOX, visit this page.
If you want to know further info about the episode, check our Wiki article on it. We are always keeping it up-to-date.
If you want to know more about Season 31, visit our page for it in our Wiki!
Stay tuned for more!