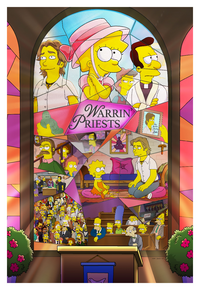 Information about the plot for the episode "Warrin' Priests: Part Two", which will air on May 3, 2019; has been released by FOX. The episode will be the 20th episode of Season 31.
In the episode …
"In Michigan, Reverend Lovejoy uncovers the reason why Bode left and came to Springfield. When the congregation learns of his crime, they must decide whether to banish their new priest."
Guest stars
Guest stars for the episode include: Pete Holmes as Bode.
For further information…
If you want to read the original listing from FOX, visit this page.
If you want to know further info about the episode, check our Wiki article on it. We are always keeping it up-to-date.
If you want to know more about Season 31, visit our page for it in our Wiki!
Stay tuned for more!