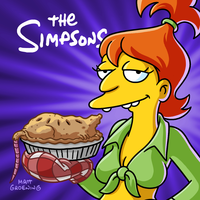 New information have been released for upcoming episodes for Season 31 and Season 32!
Stay tuned for more new episode titles! Don't forget to visit our page on Season 31 and Season 32, as we always try to keep it up-to-date!
A new promotional image for the episode with the Women of Riverdale guest starring was released by EntertainmentWeekly, later released with another one by Fox, and one from Matt Selman's Twitter.
In an interview, the writer for the episode, Cesar Mazariegos, has been confirmed that it's going to be a flashback episode. Al Jean then confirmed it.
probably

— Al Jean (@AlJean) May 3, 2020
Is it episode titled "I, Carumbus" by Cesar Mazariegos? He said about some flashback in recent podcast?

— The Simpsons News & Fun (TSNF)???????? (@tsnfua) May 4, 2020
Matthew Nastuk

— Al Jean (@AlJean) May 4, 2020
Michael Price writing a 2021 Season 32 episode
Hi! I have a script that we're working on now that will air next year, probably around March or April. Thanks!

— Michael Price (@mikepriceinla) May 4, 2020