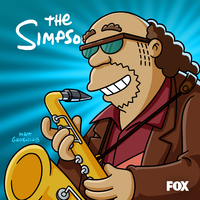 The list is finally complete as the title of the twenty-second and final episode of the 32nd production season (QABF22) has been revealed.
The episode is the 2nd part of what has now become a two parter, "A Serious Flanders". The title of the episode is "A Serious Flanders: Part Two"!
The first part, announced in December, is thus renamed "A Serious Flanders: Part One".
The episodes will probably air during the 33rd broadcast season (2021/22 TV season).
Stay tuned for more new episode titles! Don't forget to visit our page on Season 33, as we always try to keep it up-to-date!
I'm not 100% sure of that. Let's ask the writer, Mr. @CesarWeGetIt

— Michael Price (@mikepriceinla) March 7, 2021
That is the title, for now. 2 parter!????????????

— ???? (@CesarWeGetIt) March 7, 2021
Matthew Faughnan

— ???? (@CesarWeGetIt) March 7, 2021