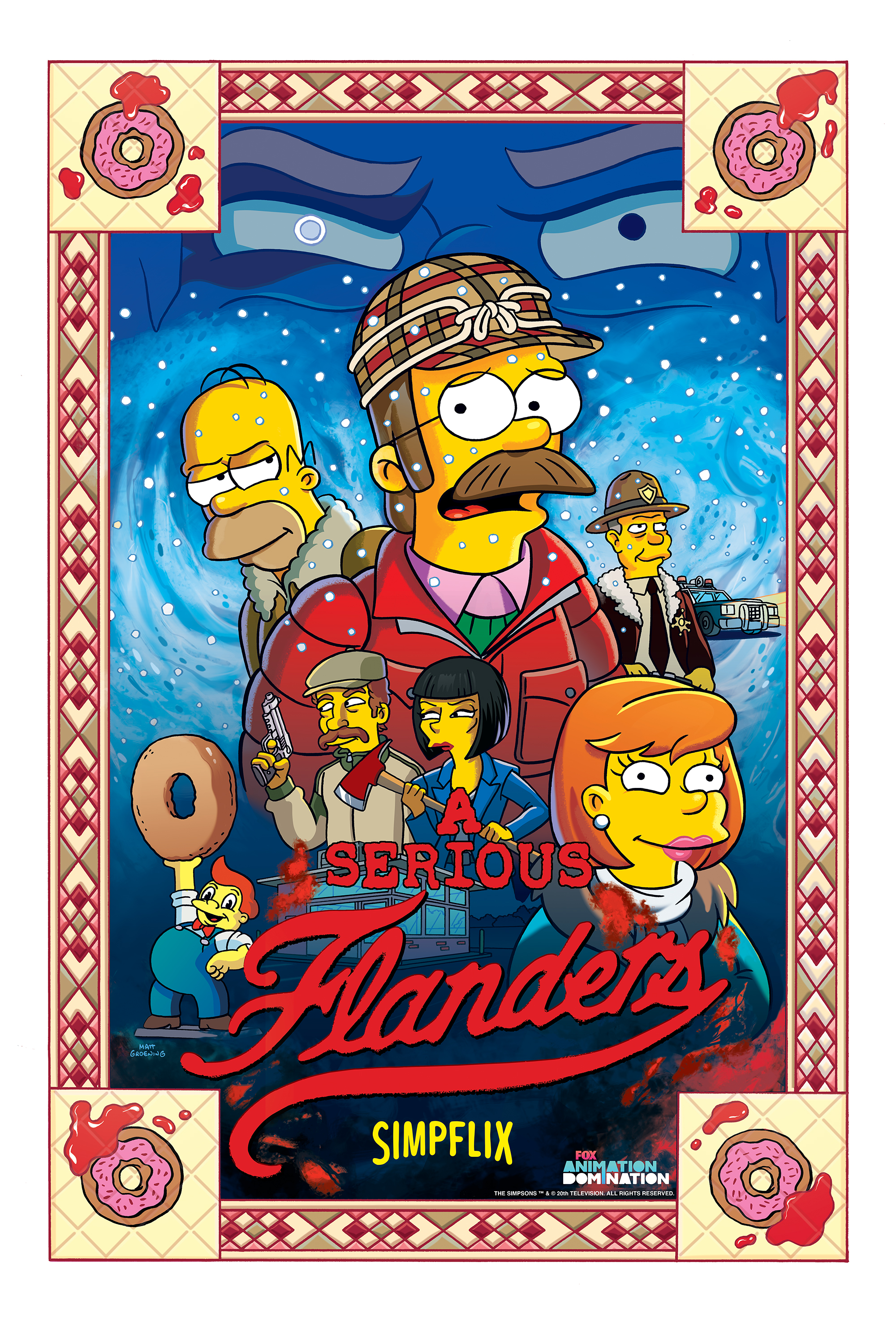 In an interview with Variety, new information on the two-part episode "A Serious Flanders", the seventh and eight episodes of Season 33, titled "A Serious Flanders (Part 1)" and "A Serious Flanders (Part 2)", have been released. The episodes will air on November 7 and 14, 2021!
According to Matt Selman it'll be a "dark, twisted 'Fargo' story. We wanted to do all the tricks that these cool streaming shows get to do: Flashbacks, crazy time jumps, the feeling that anyone might die. It's all the tricks of the trade, for a semi-pretentious but also very cool kind of story. We have scenes that build tension or make fun of the idea of building tension."
The episode is divided in two episodes to play with the pace of prestige TV: "There's no way we can do it in one show. We wanted the scenes to play out in a different pace, the tone and stresses. To fit that into one episode, it wouldn't work. Most 'Simpsons' episodes are paced much more quickly than a streaming drama".
Selman continues "Both half hours are like six episodes of a six-episode series", in a cross between a normal and a Treehouse of Horror episode, specifying that the episodes are not canon. "Stuff happens we won't stick with, so think of this from a different universe, with a different tone. I think we did a good job of telling an interesting dramatic Flanders story."
The episode shows the Simpflix logo, and it'll contain parodies of Netflix series Simpsonified, Selman concluded "If we had infinite time, Disney would be like, let's do all these shows!".
"A SERIOUS FLANDERS" — A SERIOUS RATING

(An all-new @TheSimpsons this Sunday at 8 on @FOXTV) pic.twitter.com/FYlZPb08ph

— Matt Selman (@mattselman) November 4, 2021
If you want to know more about Season 33, visit our page for it in our Wiki!
Stay tuned for more!
(As a reminder, for non-United States readers, the Fox Youtube channels' videos have been blocked by Fox to not be viewable outside United States due to rights reasons.)