Login now on The Simpsons: Tapped Out to get your free New Year's Ball (if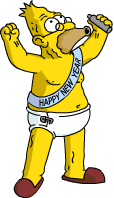 not owned already) and also unlock a new permanent job for Grampa: Celebrate New Years.
Don't forget also that the Winter 2016 event is almost over. Be sure to check our update page for all the infos you'll need!