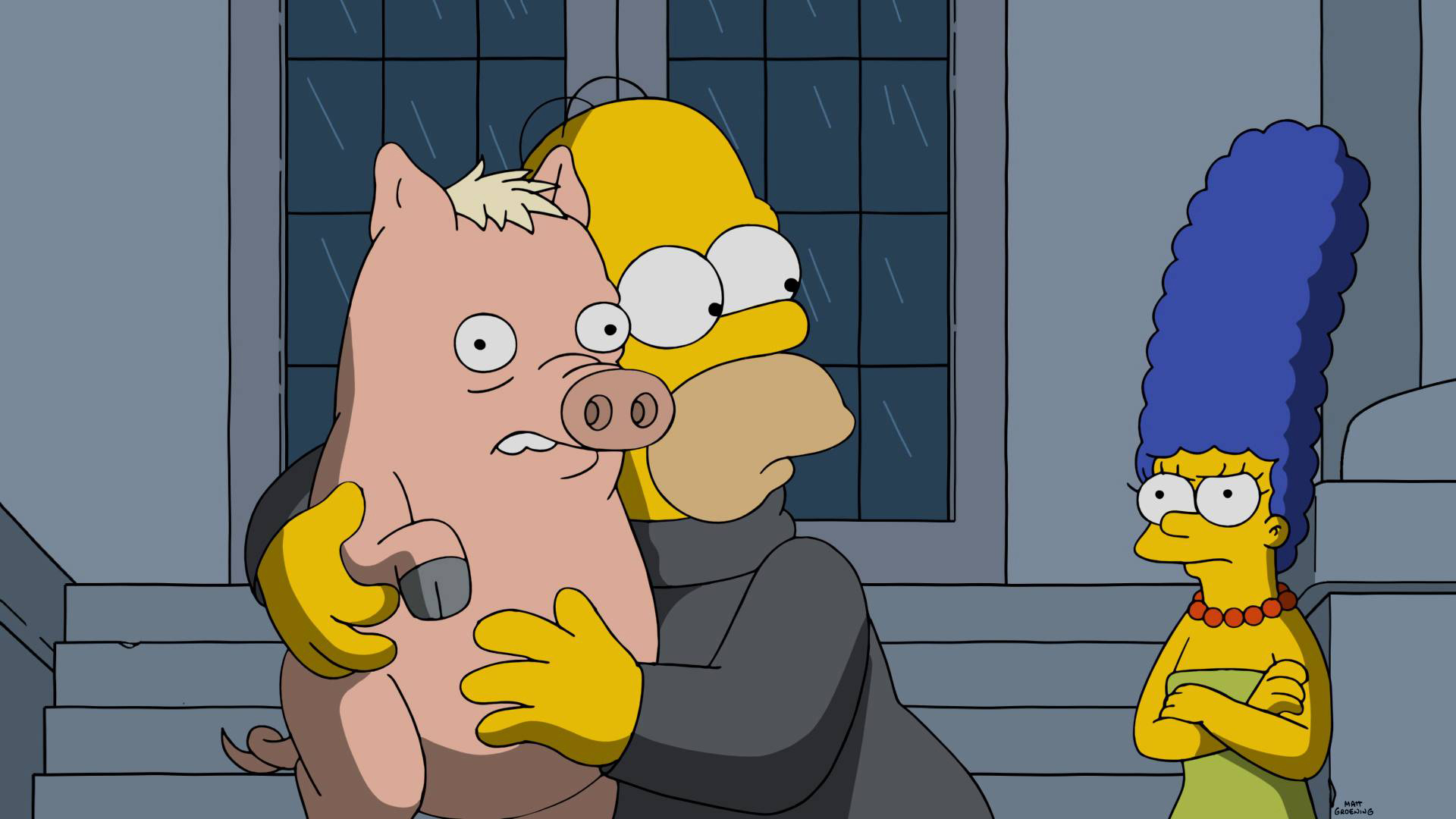 A tale of one man and his pig brought The Simpsons above eight million viewers for the first time in a year, and FOX as a whole held up well against the mighty Golden Globes, but its might couldn't top the night.
2017 got off to a good start for The Simpsons as, excluding sports and the Golden Globes, Sunday night's episode, delayed by 10 minutes due to football overrun, was the highest rated show on the night, scoring 3.5/11, the third time this season the show's had an 18-49 rating beginning with 3, but also the highest demo rating for the show since the 3.6 (3.595) "Teenage Mutant Milk-Caused Hurdles" had on January 10 last year – the equivalent episode last season. In viewership, "Pork and Burns" had 8.187 million tuned in – also the highest since "Hurdles" with 8.332 million. In share, however, it beat "Hurdles" – 11% to 10%. "Pork and Burns" added 1.2 from the last episode, and 2.591 million viewers.
Both Sunday's episode and "Hurdles" had high-rated football overruns preceding it – the reason for the high ratings both episodes experienced, with the latter's overrun at 38.85 million and the former's around 30 million.
Sunday's episode had a 55% skew in the 18-49 demographic, higher than usual; 4.438 million of the show's audience were in that demographic, leading to the episode coming sixth for the most-watched show in the 18-49 demographic that week (second in scripted shows).
This brings the season average, so far, to 2.18*/6.9 and 5.096 million viewers. By this point last season, the average was 2.209/6.5 and 5.128 million viewers.
(*recurring)
We're still neck-and-neck with last season, down in 18-49s and in viewers but up share (suggesting there's fewer viewers around), however, so far this season, we've had three (and is likely to be only three going forward into lower spring ratings) episodes above a 3.0. Last season there was only one, the aforementioned "Hurdles".
Elsewhere on FOX, Son of Zorn once again showed its magical retention-losing powers – despite being boosted to a season high of 1.8 (in its regular timeslot, excluding its 2.4/8, 6.13m out-of-slot preview) and achieving 4.263 million viewers, it still lost 47.93% of The Simpsons' viewers and almost halved in 18-49 ratings. Family Guy also had a 1.8 rating but lost viewers to 3.996 million, with it and "Zorn" having the same shares with 6%. Bob's Burgers rounded off FOX's late-running night with a 1.5/5 and 3.581 million.
The "Golden Globes" averaged 20.016 million across its timeslot, with a 5.6 rating in 18-49s and a 17% share of the total audience. Overall, "The Simpsons" had around 40 million viewers on the other three broadcast networks to compete with – much higher than usual, so a good turnout. Fox's football overrun had the night's highest audience, however, with an average of 28.416 million over a four minute period from 7:58pm, which had a massive 9.4 rating to go along with it (there is a higher figure for the 7pm-8:10pm slot available, but this isn't adjusted from the prelims so am not quoting it).
Without the Golden Globes as competition, ergo NBC's line-up rating lesser, there is a chance "The Simpsons" could've been one to two million higher and maybe in the 4s for its demo rating.
Onto catch-up news now, and December's Krustmassy episode posted a 2.6 rating after three days of catch-up, gaining 0.3 (13%) from its original 2.3 rating. That made the episode sixth for broadcast shows in 18-49 ratings in the week ending December 11, 2016. A nice end to the year.
FOX will be hoping for a similar figure for next week's hour-long episode – and they're bound to get a good one anyway, with the always reliable football lead-in.
For any UK fans out there, Season 28 launched on Sunday at 6pm on Sky1 with a double-bill; its second episode, "Friends and Family", was seen by 583,000 viewers, around double what Sky1 usually gets in that slot, and on par with previous Simpsons returns. The first episode had 384,000 viewers, still up on the timeslot.
See you next Tuesday for that!
Sources: TVBytheNumbers, ShowBuzzDaily, SpottedRatings
(P.S.: For anyone wondering what I was going to post on New Year's Eve, it would've been a review of 2016, but then thought it would be odd comparing the different ends of two seasons – you'll see a review of Season 28 come the week after it finishes.)