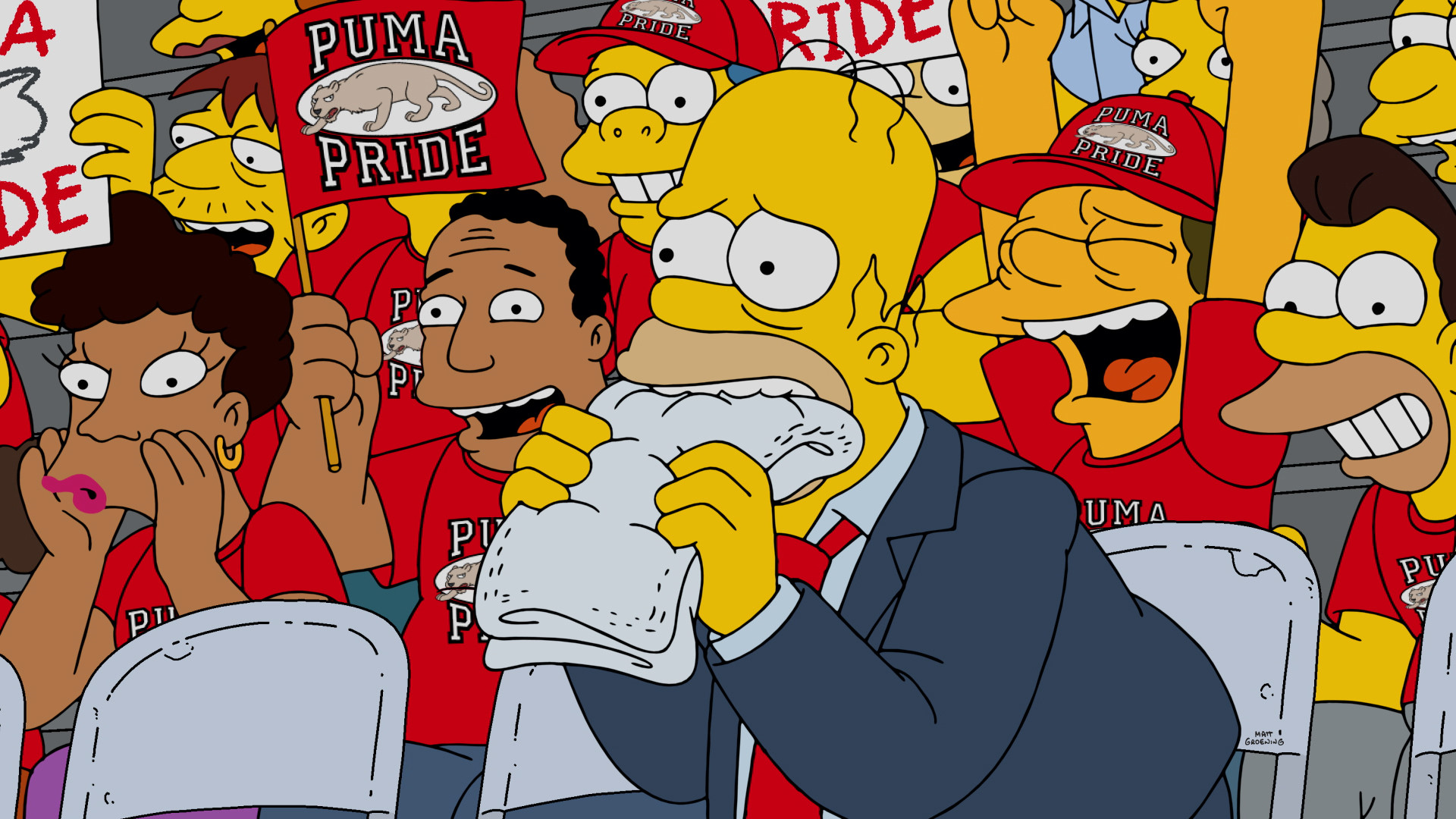 Bart was the focus last Sunday night (March 12) where a tale of basketball success turned into one bogged down with the oppression of the mob. A successful sportsman getting involved in the wrong crowd. Typical, eh?
Apologies for the delay in this post – there were some issues with Nielsen for the first half of the week as a power outage at one of their centres in Florida compounded the issue of tweaking ratings collection due to the US' shift into Daylight Savings Time. Moving on…
Sunday's episode beat the last episode's feat of having the highest viewership outside of football-supported episode so far this year, with 2.611 million, with a 1.1/4 rating, equal to the previous episode.
In unrounded ratings for the 18-49 demographic, "The Simpsons" scored a 1.122 rating, marginally below that of "Family Guy", which attained a 1.13, meaning "Simpsons" was the sixth most-watched show in the demographic on Sunday ("Family Guy" fourth), but in scripted shows, "Simpsons" was fourth. Both "Simpsons" and "Family Guy" were the only shows in FOX's Sunday schedule above the 1.0 barrier. In all, "Simpsons" and "Family Guy" effectively tied.
Viewership, as said above, is up slightly from the previous episode, which had 2.563 million. Theequivalent episode last year, was higher, however, at a 1.3/5 rating and 3.07 million viewers.
"The Simpsons", once again, was the lowest-young-skewing original show on FOX, with 54% of its audience in the 18-49s, just above newbie "Making History" with 49%.
After a brief overtaking of last season's average, this season's average has come under it again, with 1.961/6 compared to last season's average (up to the 17th episode, as are we of this season) of 1.967/6. This is also the first time in these rating posts the averages for both seasons have been below the 2.0 barrier. In total viewership, however, this season is higher than last season, with 4.56m compared to 4.54m.
During "The Simpsons"' timeslot, the overall audience opposite, on the other broadcast networks, was around 22 million, up on the previous Sunday.
A father's watch is the focus of this coming Sunday's episode, where Grampa gifts Bart a watch Homer's longed for, and Marge succumbs to the pressure of seeking out a 'parenting expert', worried Bart's destined to fail.
Hopefully, I'll see you next Tuesday!
Sources: TVBytheNumbers, SpottedRatings, ShowBuzzDaily