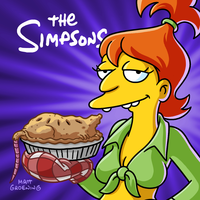 The list of episodes continues to fill up, as the title of the seventeenth episode of the 30th production season (YABF17) has been revealed. It is titled "Thanksgiving of Horror"!
The episode will probably air during the 31st broadcast season (2019/20 TV season).
Stay tuned for more new episode titles! Don't forget to visit our page on Season 31, as we always try to keep it up-to-date!
This showed up today. A big thank you to the sweetest woman around, @YeardleySmith, for sending this my way. pic.twitter.com/18GealQpCX

— VoiceBehindTheVoice (@TheVoiceBTV) October 31, 2018