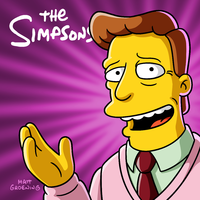 Information about the plot for the episode "Mad About the Toy", which will air on January 6, 2019; has been released by FOX. The episode will be the 11th episode of Season 30.
In the episode …
"When Marge and Homer leave Grampa to babysit the kids, some little green army men trigger a PTSD episode, sending the family on a journey to Grampa's past to when he was a post-war toy model."
Guest stars
Guest stars for the episode include: Bryan Bott as photographer/Carl, Lawrence O'Donnell as himself and Mayor Bill DeBlasio as himself.
For further information…
If you want to read the original listing from FOX, visit this page.
If you want to know further info about the episode, check our Wiki article on it. We"re always keeping it up-to-date.
If you want to know more about Season 30, visit our page for it in our Wiki!
Stay tuned for more!