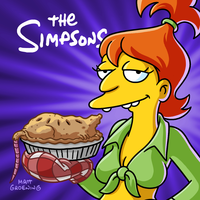 Information about the plot for the episode "The Fat Blue Line", which will air on October 13, 2019; has been released by FOX. The episode will be the 3rd episode of Season 31. "Treehouse of Horror XXX" will thus probably air on October 20, 2019 as the 4th episode.
In the episode …
"During the San Castellanta street festival, much of the town realizes their wallets have been pickpocketed. After the state investigator puts the wrong man in jail, Chief Wiggum sets out to clear his name, catch the real criminal and show he's still up for police work."
Guest stars
Guest stars for the episode include: Joe Mantegna as Fat Tony, Dawnn Lewis, Bob Odenkirk as Fat Tony's lawyer and Jason Momoa as Himself.
For further information…
If you want to read the original listing from FOX, visit this page.
If you want to know further info about the episode, check our Wiki article on it. We are always keeping it up-to-date.
If you want to know more about Season 31, visit our page for it in our Wiki!
Stay tuned for more!