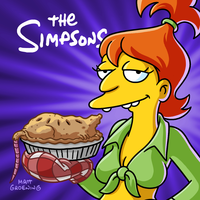 Information about the plot for the episode "Treehouse of Horror XXX", which will air on October 20, 2019; has been released by FOX. The episode will be the 4th episode of Season 31. It will be the 30th installment of the Treehouse of Horror series, as well as the 666th episode of the show.
In the episode …
"The 30th Treehouse of Horror features a demon Maggie, a mission to rescue Milhouse from another dimension, dead-Homer's spirit trying on some new bodies for size and Selma finally finding love in an unlikely place – the alien in the basement."
For further information…
If you want to read the original listing from FOX, visit this page.
If you want to know further info about the episode, check our Wiki article on it. We are always keeping it up-to-date.
If you want to know more about Season 31, visit our page for it in our Wiki!
Stay tuned for more!