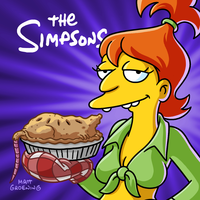 Information about the plot for the episode "The Winter of Our Monetized Content", which will air on September 29, 2019; has been released by FOX. The episode will be the 1st and season premiere episode of Season 31.
In the episode …
"When a video of Bart and Homer fighting goes viral, they begin a journey as social media celebrities. Meanwhile, Lisa battles the school's new industrialized detention system."
Guest stars
Guest star for the episode include: John Mulaney as Warburton Parker
For further information…
If you want to read the original listing from FOX, visit this page.
If you want to know further info about the episode, check our Wiki article on it. We are always keeping it up-to-date.
If you want to know more about Season 31, visit our page for it in our Wiki!
Stay tuned for more!