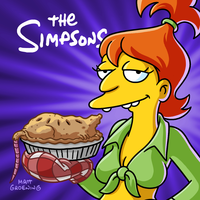 The list of episodes continues to fill up, as the title of the fifteenth episode of the 31st production season (ZABF15) has been revealed. It is titled "The 7 Beer Itch"!
Followin the news on Olivia Colman will voice a femme fatale who falls for Homer Simpson in the episode, The Wrap brings us which one she'll star in, and that Olivia's character name is Lily.
Meanwhile Al Jean announces the episode officially and the writers and director for it on his Twitter.
.@thesimpsons Happy Labor Day! pic.twitter.com/98RYQoSMhJ

— Al Jean (@AlJean) August 30, 2019
Cohen Frink Jean

— Al Jean (@AlJean) August 31, 2019
Mike Polcino

— Al Jean (@AlJean) August 31, 2019
The episode will probably air during the 31st broadcast season (2019/20 TV season).
Stay tuned for more new episode titles! Don't forget to visit our page on Season 31, as we always try to keep it up-to-date!