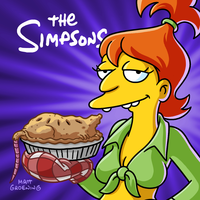 Information about the plot for the episode "Gorillas on the Mast", which will air on November 3, 2019; has been released by FOX. The episode will be the 5th episode of Season 31.
In the episode …
"After a trip to Aquatraz Water Park, Lisa becomes determined to set free Springfield's most vicious animals in captivity. Meanwhile, Homer fulfills a lifelong dream of buying a boat, and quickly realizes boat ownership sucks."
Guest stars
Guest star for the episode include: Jane Goodall as Herself
For further information…
If you want to read the original listing from FOX, visit this page.
If you want to know further info about the episode, check our Wiki article on it. We are always keeping it up-to-date.
If you want to know more about Season 31, visit our page for it in our Wiki!
Stay tuned for more!