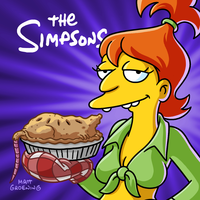 Information about the plot for the episode "Hail to the Teeth", which will air on January 5, 2020; has been released by FOX. The episode will be the 11th episode of Season 31.
In the episode …
"Homer and Marge attend Artie Ziff's wedding and become quite uncomfortable when they realize that his bride-to-be is a clone of Marge. Meanwhile, Lisa grapples with the misogynistic implications of the immediate popularity she receives after getting her new Invisalign braces"
For further information…
If you want to read the original listing from FOX, visit this page.
If you want to know further info about the episode, check our Wiki article on it. We are always keeping it up-to-date.
If you want to know more about Season 31, visit our page for it in our Wiki!
Stay tuned for more!