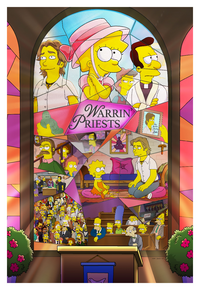 Information about the plot for the episode "Warrin' Priests: Part One", which will air on April 26, 2019; has been released by FOX. The episode will be the 19th episode of Season 31.
Also remember that the episode "The Incredible Lightness of Being a Baby" airs on April 19, 2020. For its summary, visit this post.
In the episode …
"When Bode, a young charismatic new preacher, comes to town and shakes things up at church, Reverend Lovejoy investigates his mysterious past."
Guest stars
Guest stars for the episode include: Pete Holmes as Bode.
For further information…
If you want to read the original listing from FOX, visit this page.
If you want to know further info about the episode, check our Wiki article on it. We are always keeping it up-to-date.
If you want to know more about Season 31, visit our page for it in our Wiki!
Stay tuned for more!