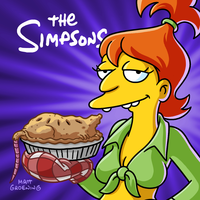 Information about the plot for the episode "The Hateful Eight-Year-Olds", which will air on May 10, 2019; has been released by FOX. The episode will be the 21st episode of Season 31.
In the episode …
"Lisa makes a new friend who loves horses, but then becomes part of a circle of snooty young rich girls. Meanwhile, Homer takes Marge on a romantic cruise."
Guest stars
Guest stars for the episode include: Lili Reinhart as Bella-Ella; Joey King as Addy; Madelaine Petsch as Sloan; Lilly Singh as Kensey; Camila Mendes as Tessa Rose and Weezer as Themselves.
For further information…
If you want to read the original listing from FOX, visit this page.
If you want to know further info about the episode, check our Wiki article on it. We are always keeping it up-to-date.
If you want to know more about Season 31, visit our page for it in our Wiki!
Stay tuned for more!