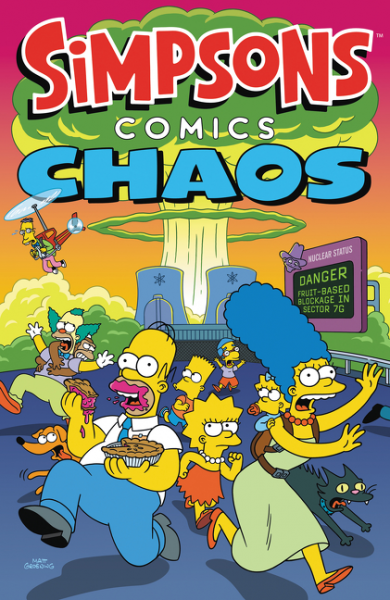 Simpsons Comics Chaos, the latest Simpsons Comics complication book, has been released in the US today, February 2nd. It features comic stories previously released in Simpsons Comics issues.
Pandemonium breaks loose in Springfield when one cellphone call causes a commotion of cosmic proportions. Then, it's a hard knock life for Bart when a prank lands him in the Springfield Orphanage, where he is subjected to gruel and unusual punishment by Mr. Burns. Adding to the confusion, Homer decides to get a tattoo to prove his love to Marge and Krusty quits show biz to work at of all places . . . the Springfield Nuclear Power Plant! And Ned Flanders suffers a bout of "Vertigo"-areeno when he becomes obsessed with a woman who is a dead ringer for his dearly departed wife! Then, Homer, Barney, and Duffman spring into action to save Duff Industries and the savory secret behind their new special brew . . . and stay tuned as some minor characters make some major moves by "spinning off" into their very own uninspired television series!
For more information, including a list of stories included when we can update, read our article.
Thank you for reading!
--
Solar Dragon
, Wikisimpsons Head Admin