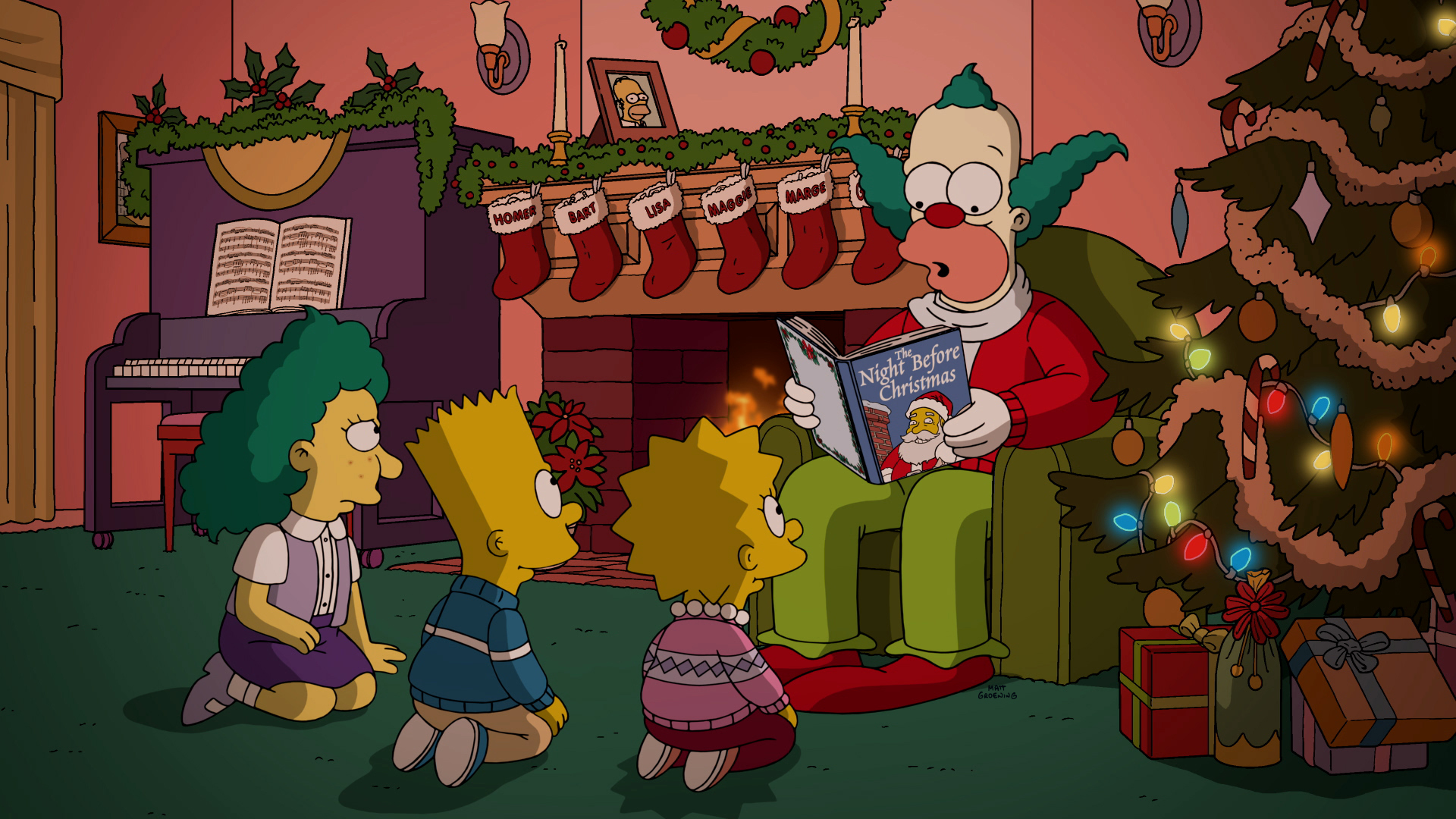 'Simpsons' brought some Christmas cheer to FOX on Sunday night, alongside the high football overrun (5.0) and analysis programme (3.9), as it was the top-rated scripted show of the night. Although, that Christmas cheer soon became diluted thanks to the new live-action/animated hybrid.
In the preliminaries, it was looking exciting to be having not just a show be even week-on-week, but also year-on-year. Unfortunately, it had to adjust down in the finals, didn't it, but the stability is encouraging. Despite the fact all three episodes we're talking about here were boosted by football and this audience gain will be wiped out by the time Simpsons returns in January without football backup.
Sunday, December 11's Christmas-themed, daughter-reuniting episode scored a 2.3/8 rating while entertaining 5.596 million viewers, down from last week's 2.4 and 5.772 million, and more so in viewers from last year's 2.4 and 5.970 million. In whole audience share, however, Sunday's episode was up a percent from last week and last year. All three episodes fell from the viewer numbers in preliminary figures.
Sunday's episode ranked seventh in the most-watched broadcast shows of the week ending December 11th in 18-49s, with 3.011 million viewers in that age bracket.
The slightly reduced audience may have been due to the lessened number watching the football overrun and therefore there being fewer sticking around for the post-analysis show The OT, both of which declined 0.3 week-on-week, with the former losing 21,000 viewers and the latter 286,000.
Currently the season average is 2.06/6.7 and 4.784 million viewers. By this point last year, it was 2.07/6.2 and 4.852 million.

Once again, the show is irritatingly just short of last year's average by the Christmas break, but it is clear to see the number of Americans watching TV has decreased – the show has declined marginally in viewers yet has increased marginally in audience share.

At the moment, "The Simpsons", is, on average, FOX's second-highest scripted show, below "Empire". That's got to be something after nearly 27 years (anniversary this Saturday).
The only other show on FOX to stay above the now-notable 3m barrier was Family Guy, with 3.047m and a 1.4/4. Son of Zorn continued its low retention rate, taking a chunk out of the NFL boost FOX received and The Simpsons inherited, on Sunday night losing 47.83% of Simpsons' 18-49 share and 48.61% of its viewers to just 1.2/4 and 2.876 million.
Opposite 'Simpsons' was an increased audience of 26-29 million viewers from last week's ~21 million, and despite competition from 'Frozen', the second highest non-sport show of the night in 18-49s, Simpsons still came on top in scripted shows (in 18-49s, of course), coming third in scripted shows in viewers.
The largest audience of the night on US TV was the 8.7/26 and 26.499 million who tuned in to watch Sunday Night Football on NBC.
Meanwhile, in Live+3 ratings for the week ending December 4th, "The Simpsons" gained 0.2 (8% of its 2.4 Live+Same Day audience), to reach a 2.6 rating and tie eighth in the most-watched broadcast shows by 18-49s that week. Barring one occasion this season, "The Simpsons" only makes it into the Live+3 Top 25 chart when football precedes it. It came third for Fox's most-watched shows in 18-49s for the week, under "Empire" (4.0) and just under "College FB – Top Ten Championship" (2.7).
The next ratings analysis will come on what is looking like 10th January, scrutinising the numbers for the show's first hour-long extravaganza on January 8th (excluding that Morgan Spurlock hour-long 20th anniversary thing, of course). To be confirmed. the first new episode of the year, which sees the return of Spider-Pig.
(Although keep an eye out New Year's Eve for something. To also be confirmed!)
Sources (forgot last week!): TVByTheNumbers, SpottedRatings, ShowBuzzDaily