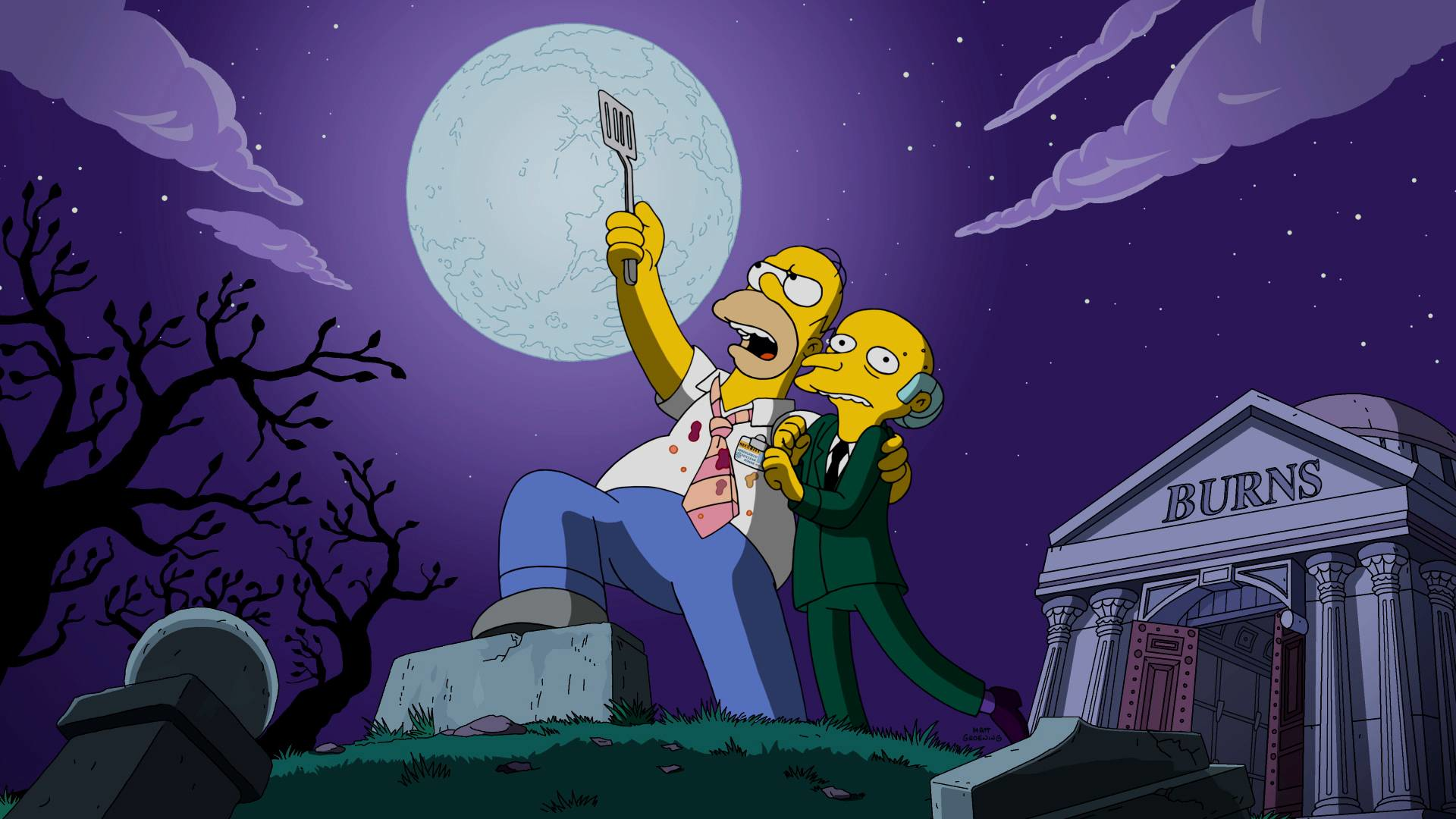 The hour-long Simpsons was probably always set to be the top scripted show last Sunday night (January 15), with its high football lead-in, although it's football opposition and the effect it would have on the landmark episode wasn't conceived until the airdate itself. Despite the circumstances being less than ideal, The Simpsons still performed above-average on Sunday.
6.901m saw the 14-minute delayed episode, and scored a 2.8/8 rating, the highest-rated show on the night excluding sports, but fell away from FOX's football lead-in. Considering NBC's widely-seen football build-up and game itself, Homer and the gang conjured up a competitive feat. The episode was the fourth most-watched broadcast show in 18-49s of the week (the most-watched on FOX), with 3.566 million of its viewers being in that demographic; the episode was ranked twenty-second in most-watched shows of the week in overall viewership.
TVByTheNumbers reports an enormous 13.9/41 and 44.97 million average for the FOX football between 7pm and 8:14pm, while ShowBuzzDaily posted a huge 9.9 rating, and a 28.86 million audience across the six minute telecast from 8:08pm, and 38.752 million and a 13.1 figure for a four minute overrun segment from 8:04pm, the most-watched show of the night in viewers and 18-49s.
NBC's "Football Night in America" averaged a 2.1/7 rating and 7.07 million in a telecast from 7:30pm to 8:20pm; the period from 7:30pm to 8:11pm had an average of 1.0 and 3.559 million viewers, with a 7.1 and 23.077 million average from 8:11pm to 8:20pm – eating into The Simpsons viewers who may have switched to NBC as FOX's football ran late. A 12.0/35 and 37.113 million average was attained for the football game itself from 8:20pm-11:19pm.
Even the writer of part two of the episode and showrunner Matt Selman, complained on Twitter about the NBC opposition, posting "The ratings for this show would've been so huge if not for the ice storm moving the KC-PITT game to 8:20 EST. (SIGH)" (tweet no longer available). Chris Ledesma, a member of the show's music department, quoted the tweet and lamented on the "Months of prep and weeks of anticipation upset by the weather in the Midwest".
In any case, The Simpsons lost quite a bit of its football lead-in. Considering NBC's also huge football build-up and game itself, Homer and the gang conjured up a competitive feat, and its 2.8 figure is still good despite being down 0.7 from the previous episode.
Sunday's episode was up from the equivalent episode last year, which had 1.8/5 and 3.95 million viewers – but, with that episode having had no football lead-in, it would be unfair to compare. Sunday's episode also had a 52% 18-49 skew, down from last year's 58%.
With Sunday's rating, this brings the season average to 2.23/6.9 and 5.246 million viewers. By this point last season, the average was 2.34/6.4 and 5.03 million viewers. This season is up in viewers and share, but is still down in 18-49s; now beating last season in viewership is most likely due to Sunday's episode adding a high figure into the equation, which the equivalent episode last year didn't have.
As aforementioned, despite the football being high for FOX, the audience had fallen by shy of ten million from the 8:04pm programme average to the 8:08pm programme average, with The Simpsons averaging 22 million less than the 8:08pm show. Despite the large drop for The Simpsons, it is entirely possible it fell through its broadcast, due to many choosing and switching to the football, and the show may have been damaged due to its late start. The episode may reach a 3.0 rating in catch-up, although it isn't known for The Simpsons to gain more than 0.3 after three days of catch-up viewing – FOX will be somewhat disappointed with the lower-than-expected numbers (due to the unforeseen football match moved into primetime) and be hoping those who abandoned the show for football due to the late start time will watch on catch-up, considering the effort in promotion put in for the episode resulted in a figure lower than the previous non-special episode.
Among the targeted 18-49 demographic, Fox held up best against the NBC-won night, with all shows above the 1.0 barrier, something other networks couldn't say, with ABC below it all evening and CBS peaking at 1.0 with NCIS: LA. In viewers against NBC, CBS was strongest, with only one show below seven million viewers – all of ABC's shows being far below that number.
The rest of FOX's line-up performed OK, with a one-off The Mick doing well with a 1.7/5 and 4.088 million (although this didn't do anything for the normal Tuesday episode, which declined slightly (from its previous Tuesday episode) to 1.1/4 and 2.727 million – both of these figures are prelimary as of writing), and Family Guy didn't have much of a boost with a 1.4/5 but was higher than usual in viewership, with 3.549 million.
Overall, The Simpsons had, opposite it, around a 45 million audience on broadcast TV to compete with, the highest competition so far this season.
In catch-up news for the previous episode, "Pork and Burns", it reached 3.7 after gaining 0.2 (6% of original audience) after three days of catch-up, to become the fourth most-watched show in 18-49s for the week. And unusually for The Simpsons, it made the top 25 in most-watched broadcast shows in overall viewership, coming in 24th with 8.570m, gaining 383,000 (5% of original viewership).
In UK ratings, the first two episodes of the season achieved 529,000 (including those watching on +1) and 655,000 (excluding +1) figures respectively, after seven days of catch-up.
It's rerun central on Fox next Sunday night and "Miss Universe" is on the week after, so I'll see you when I see you.
And apologies for the post being published a day later than usual; the final TV ratings were delayed until today due to Martin Luther King weekend.
Sources: TVbyTheNumbers, SpottedRatings, ShowBuzzDaily