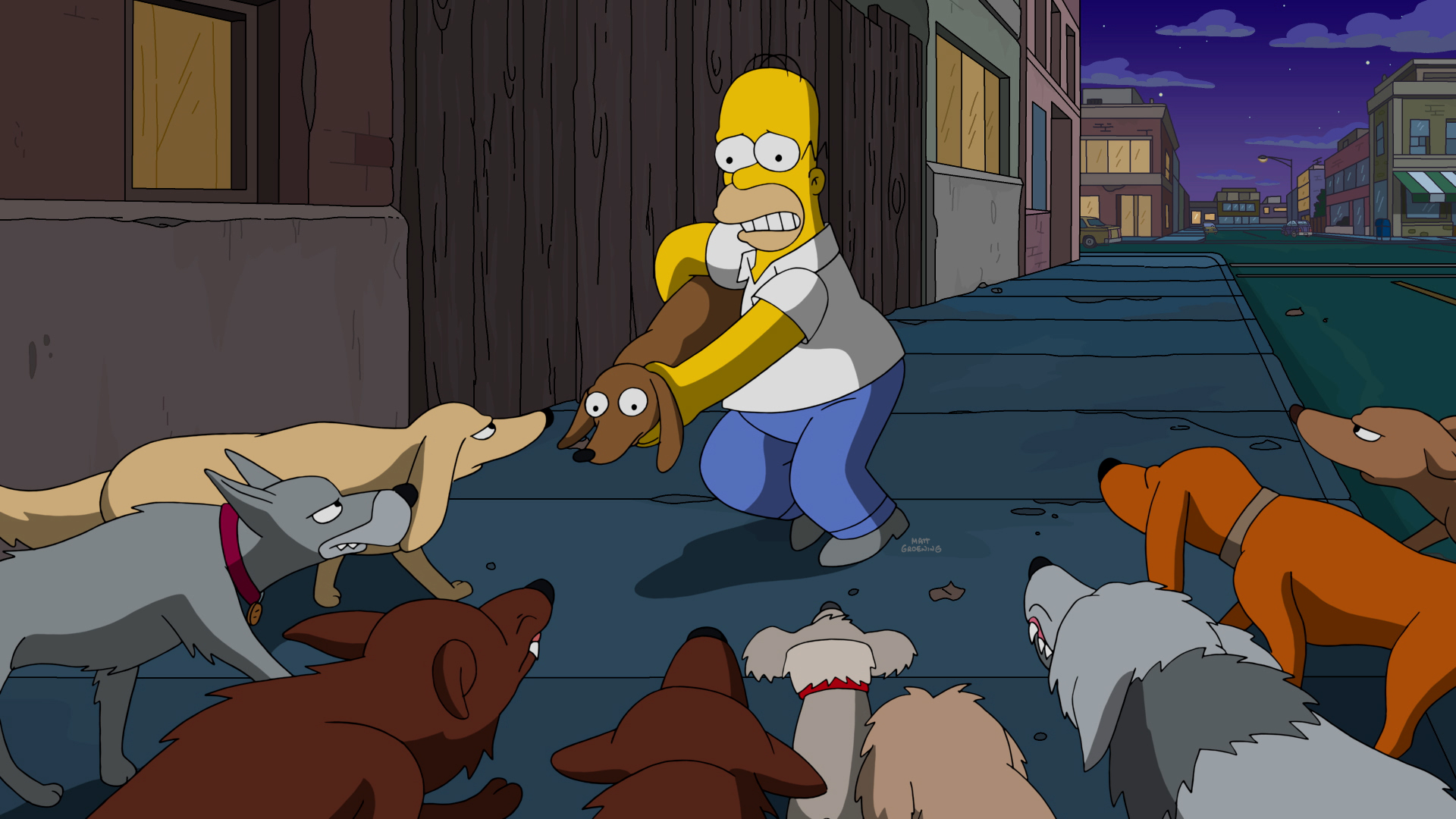 "The Simpsons" aired its season 28 finale on a down note on Sunday, as it hit fractional once again, for the third time this season – and ever – with the antics of an albino family from Rhode Island proving more popular again.
The episode, which saw Springfield prioritise the rights of canines over that of humans, was seen by 2.15 million viewers (second-lowest overall viewership ever) and recorded a 0.94 rating (second-lowest 18-49 rating ever) and a 4% share. (The episode had a 54% 18-49 skew, the lowest on FOX that night, but still higher than the skews of all other broadcast TV shows.)
The episode's ratings were harmed by the clash with the Billboard Music Awards, which pulled in an average of 2.6/9 and 8.7m viewers over its three hours on air, although those numbers were lower when it started during "The Simpsons"' timeslot.
Sunday's ratings are down from the previous episode's 1.0/4 and 2.344 million viewers, and also down from last season's finale, which drew 1.05/4 and 2.542 million viewers.
Irrespective of the fractional figures, "The Simpsons" was still the second-most-watched show of FOX's night in overall viewership – as well as being the third-most-watched of FOX's night and all of broadcast TV in 18-49s.
Season 28 averaged a 1.72 rating, 4.015m viewers and 5.6% audience share compared to season 27's average of a 1.74 rating, 3.999m and 5.4% audience share. It seems that, for this season, even with the higher numbers in fall, the lower-than-usual numbers for late spring brought the average down, although the increase in overall viewers for this season seems to buck that trend, and it also seems the increase in audience share will be due to TV audiences as a whole declining.
"The Simpsons" was beaten in the 18-49s by two episodes of "Family Guy", which were at 1.0/4 and 1.1/4 respectively, but only the latter episode beat the show in overall viewership, with 2.052m and 2.225m respectively. You may be interested to hear "Family Guy" only went fractional (below a 1.0 rating) once this season, while "The Simpsons" did it thrice – although not low enough to meet "Family Guy"'s fractional rating (0.88).
Opposite "The Simpsons", around 20-21 million were watching on the other three broadcast networks, on par with the usual number.
I'll be back within the week for an overall analysis of the season, but if you don't catch that, I suppose I'll see you October 3rd, with ratings analysis of the season premiere, "Springfield Splendor"!
Sources: TVBytheNumbers, SpottedRatings, ShowBuzzDaily and TVSeriesFinale