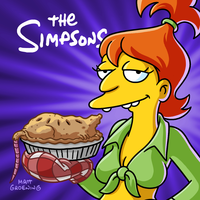 The list of episodes continues to fill up, as the title of the fourteenth episode of the 31st production season (ZABF14) has been revealed. It is titled "The Hateful Eight-Year-Olds"!
The episode will probably air during the 31st broadcast season (2019/20 TV season).
Stay tuned for more new episode titles! Don't forget to visit our page on Season 31, as we always try to keep it up-to-date!
Crazy bucket list news: Because I work with amazing people, i got to go to a table read for @TheSimpsons !! This is an all time favorite show that connects to my childhood & seeing those actors perform in those voices, will be something i never forget. Amazing day! #TheSimpsons pic.twitter.com/Pba1S8o4CU

— Michael Kamens (@TheMBrand) August 15, 2019